Over the years, Nike has evolved into a staple for sporting activities. And not too long after its conception, plus the fashion trend changes, it became integral in anyone's daily walk.
With its diversity in design and technology, it's no strange that this brand is almost always present in any sport that needs shoes, one of which is skating. And today, we will learn about the best Nike skate shoes. Some of them might even be our icons' favorites.
Let's see what makes them best.
Nike has some of the most comfortable skateboarding shoes, giving the skaters a wholesome experience every time. Such is possible through paddings around the collars and insoles. These provide the rider's feet with a snug fit from all sides.
Some riders find sneakers with padding challenging to break in. But the time will come when the shoes will adjust to their feet.
Most trendy Nike shoes for skating come from suede and leather, two perfect skate shoe materials fit for agile activities. There are few canvas shoes, but they are often to keep the feet cool. Another part to check for durability is the lace protection and rubber toe caps. These are two of the most vulnerable areas of the shoes.
A good pair of shoes that yields sufficient grip means added stability for the rider. Often, it's the rubber outsoles that do all these wonders.
Besides reduced slip risks, rubber soles with enough traction are frequently more flexible and responsive.
More aspects await us in this article. But now, we will see which products stand out in several physical and performance-related areas. Only until then will we find out what Nike pair will work best for us.
Top 1
Nike Blazer Mid '77 Big Kids Casual
– Sole type – Vulcanized
– Type – High-top
– Recommended users – Unisex
Top 2
Nike GTS 97 Black/White Men's Retro
– Color – Black / White-White-Team Orange
– Type – High-top
– Recommended users – Unisex
Top 3
Nike Men's Blazer Low '77 Vintage
– Item weight – 1.94lbs
– Type – Low-top
– Materials used – Suede, rubber
6 Top-Rated Nike Skate Shoes
1. Nike Blazer Mid '77 Big Kids Casual Skate Shoes
Short specifications
Color – Black / White-White-Team Orange
Type – High-top
Recommended users – Unisex
Some might find tall sneakers uncanny, but the Nike Blazer Mid '77 Big Kids Casual Skate Shoes have the essentials that make them fit skating.
The first is their high-top profile. Blazer Mid has a body that wraps until above the skater's ankles. Despite looking hot or restrictive, such a feature adds more ankle support to the rider and keeps the skater away from potential injuries.
The second is the experience skating in Nike Blazers. I came across a discussion among buyers of this Nike shoe model. And one thing common in their responses is that these sneakers are comfortable and fit as expected.
Indeed, the components of these Big Kids skateboard sneakers collectively give users wholesome and quality rides without disturbance and fitting issues.
Besides these shoes' build, the brand's sizing adds to their perfect fit. As many buyers affirm, this shoe arrived true to its size, which doesn't happen consistently with other skate shoe brands.
The notable features of these Nike casual shoes don't end on the upper materials yet. Because if we flip the skate shoe up, there is a treaded rubber outsole.
Also, the rubber used on a pair of sneakers guarantees flexibility. Add the tread patterns on these outsoles, and the material's good traction shows off. Hence, with grip comes stability when skating.
However, an area of concern was the item's packaging. It arrived in cardboard packaging, and it was a bit questionable. Nonetheless, it did not compromise the shoes' quality.
High-top sneakers that support and keep the ankles secured
Comfortable longboarding shoes without fitting issues
Arrived true to their size
Treaded rubber outsole for sufficient traction and stability
Not the best packaging in cardboard
---
2. Nike GTS 97 Black/White Men's Retro Shoes
Short specifications
Sole type – Vulcanized
Item weight – 12.35 Ounces
Recommended users – Mens
By their name, anyone can already tell that the Nike GTS 97 Black/White Men's Retro Shoes are the classic shoe skaters need.
These Nike skateboarding shoes feature canvas materials for the upper. For some, it sounds like a longevity issue. But what gives this textile some advantage is its improved durability. Plus, we know the canvas makes things coolest. So, overall, this design offers a perfect laid-back silhouette any rider would love.
Versus the previous product, this pair comes in a simple, low-top cut that allows users to wear and take it off conveniently. Hence, while it could bring some risk to the ankles, it provides them more mobility.
Below the upper materials is a vulcanized sole. This construction type offers sufficient flexibility and a feeling of breaking in on the shoes on the first try. And most of all, it generates the best board feel riders need.
Another factor in these shoes' durability is their outsole. GTS 97 comes with rubber outsoles. And we know this component provides excellent grip and tractions. But besides these advantages, Nike did not fail to infuse added durability in these soles. While it may be too early to claim, the sneakers' performance will tell eventually.
Ultimately, these shoes are not the cheapest nor the most expensive. But I think they have a reasonable price, given their design, durability, and overall performance.
On the downside, wide-footed skaters might have problems wearing these sneakers. A few buyers complained this style was a bit too narrow for them.
Durable canvas upper to keep the feet cool
Laid-back shoe profile for riders loving classic footwear
Low-top cut shoes made for more ankle mobility
Vulcanized sole that provides a great board feel
Flexible and grippy outsoles with reliable durability
Reasonably priced sneakers
The fit was a bit narrow for some skaters
---
3. Nike Men's Blazer Low '77 Vintage Shoes
Short specifications
Item weight – 1.94lbs
Type – Low-top
Materials used – Suede, rubber
The Nike Men's Blazer Low '77 Vintage Shoes is one of the few owning that perfect fusion of class, style, and comfort for every skater.
These sneakers come with a simple B-ball-like look paired with their low-top profile. Such features give this footwear an ideal classic and simple finish. And because of that, this pair becomes essential not only for skating but even for casual dress-ups or everyday wear.
As mentioned, this model doesn't disappoint in comfort. Blazer Low has a super-soft padded collar, giving the areas around or below the ankle a snug fit. So, more often, this pair still gives the feet a snug fit when worn, even coming as a low-top.
Durability-wise, these shoes have the most appropriate build for skating. Nike used suede in this pair. And as the guide says, such material offers sufficient wear-and-tear resistance, especially for agile stunts like a kickflip.
Thus, with this upper shoe feature, users can guarantee a sufficiently long lifespan for these Nike skateboarding shoes.
This pair of skating shoes arrived authentic. And as many users claim, these shoes fit well and in the appropriate size.
While these shoes have rubber soles, I don't think they're the softest or most flexible. These parts are a bit hard and take more effort to work with them. Nevertheless, their style and durability count more.
Low-top classic sneakers fit for skating or casual styling
Super-soft padded collars for optimum comfort around the ankles
Durable upper material fit for agile activities like skating
Authentic shoes that are true to their size
Not the most flexible outsoles
---
4. Nike SB Zoom Blazer Da1839 Sneakers
Short specifications
Color – Light Dew / Green
Sole type – Vulcanized
Type – Mid-top
Materials used – Leather, rubber
Skaters who don't like high tops but still prefer reasonable ankle protection would likely pick Nike SB Zoom Blazer Da1839 Sneakers.
Such a pair of sneakers come in a mid-top profile, which means they go between low and high. When riding, these shoes provide the ankles sufficient support. But what's better about this shoe height is it doesn't limit the foot's mobility.
For some, these shoes look a bit hotter because of their added foot coverage. But Nike had a way to avoid this through its Zoom Air unit. Its function? It gives the feet quality cushioning. So, besides the collar, skaters can ensure this pair is comfortable in all areas inside.
We mentioned how leather shoes can be a bit too stiff for skateboarding. But this brand made a good gamble on this material, evident in these sneakers. True enough, this pair works well when skating. And because of this material's exceptional strength, it's sure that this pair will last longer.
Still, these sneakers aren't stiff from all angles. SB Zoom comes in a vulcanized construction which gives the skater's feet a broken-in sensation early on. Add the herringbone pattern at the bottom, and users get enough traction. So, they're flexible and always yield a better board feel.
Unfortunately, I think shoes like these need longer laces. Like a few customers, I found the shoelace of these shoes a bit short. Good thing there are a lot of substitutes around.
Mid-top profile for balanced ankle support and mobility
Zoom Air unit that provides cushioning and comfort inside
Leather upper that guarantees optimum durability
Flexible vulcanized soles
Herringbone treads for improved board feel
The shoelaces are a bit short
---
5. Nike Unisex-Adult Fitness Shoes
Short specifications
Color variants – Black / White, Multicoloured, Multicolour wolf grey
Type – Low-top
Suited genders – Unisex
The Nike Unisex-Adult Fitness Shoes could be the best skate shoes for someone physically active.
These sneakers feature a straightforward design sending them to almost any sporting activity. Essentially, they are good shoes to skateboard in. But another versatile aspect of these sneakers is their gender suitability. This pair is unisex-labeled. So, they don't only fit several activities but all genders, too.
Besides their design, I think one more factor that makes these sneakers fit other activities is their rubber sole. We know this material has sufficient grip. So, users of this pair will often get that stability, whether in skating or other fitness activities.
Yes, this pair looks a bit simpler than the previous sneakers. But Nike never fails to keep its products comfortable, like this model. What's better is this pair is another that doesn't need a break-in period. Hence, regardless it's their first time wearing these, users can immediately adapt to them.
Whether doing sports or getting casual, I feel satisfied with these sneakers. They are lightweight, which reduces potential strain on the feet. Plus, with their low-top cut, they aren't restrictive and are less likely to put stress on the user.
I'm not sure if it happens with other riders. But these shoes' white rubber walls are slightly more vulnerable to dirt and staining. Unlike some pairs, these attract dirt a bit faster.
Versatile sneakers that fit any activity and gender
Sufficient grip and traction from rubber soles
Comfortable shoe that needs no break in period
Lightweight skateboarding shoes
Low-top cut for less ankle restriction
The white rubber walls seem to attract dirt faster
---
6. Nike Men's Basketball Shoe
Short specifications
Color – Summit white/industrial blue
Type – Low-top
Materials used – Denim, Rubber
Sometimes, what's on the hard court can also fit skating, like the Nike Men's Basketball Shoe.
This pair lives up to the needs of a skater, coined as a shoe for the hard court and rings. And many buyers can attest to that. These Dunk sneakers jive well with skating activities despite having a unique profile versus the previous products.
Perhaps, this pair of skating sneakers is one of this brand's latest creations. While others contain leather or canvas, these sneakers have denim as their upper material.
Is denim good? For the record, it's more comfortable and organic than leather. Aesthetically, this material is more adaptable for designs and customization.
Another factor that makes these sneakers comfortable is their midsoles and paddings. This pair comes with a foam midsole, giving that plushy, comfortable cushioning. Add the padded collars, and the ankles get that snug feeling. Hence, skating stays soft even going more technical.
What I love more about these shoes is, given they have this touch of basketball, Nike keeps this pair suited for skating through rubber outsoles. By nature, a rubber outsole has sufficient grip and traction. So, users can still stabilize better with these sneakers.
However, the space near the shoes' tips feels tight. Some skaters complained about their toes getting too compressed. Nevertheless, it could be an issue about being narrow or wide-footed.
Basketball-themed shoes that perfectly work for skating activities
Denim upper material that's comfortable, organic, and customizable
Midsoles and collar padding for optimum cushioning and added comfort
Sufficient grip, traction, and stability from the rubber outsoles
The space on the toes is slightly tight
---
What to Look for When Buying Nike Skateboarding Shoes?
Nike sneakers, like SB Force 58, are undeniably fit for almost any activity. But when we go to the extremes, we might need to check which model will help us perform better. Hence, here are the things to consider when buying Nike shoes for skating.
1. Upper material
The sneaker's upper carries most, if not all, of the footwear's designs. And we know that many buyers already decide by looking at it. But besides the aesthetic aspects, the upper is also a durability factor. What upper materials does Nike use?
Most brands consider this material a staple for skateboarding. It has a natural strength that can withhold stretching and grinding against skating areas and equipment. For the record, most skateboarding sneakers contain this material, regardless of the brand.
Canvas, a light, and breathable textile, wins in breathability and weight. Indeed, it's the least straining material to use on the shoes. However, a salient drawback of a canvas skate shoe is its longevity. Not a pair of these shoes last as long as suede.
2. Paddings and cushioning
Not all sneakers have the same amount of cushioning. Nonetheless, whatever side you're on, it still has benefits.
But since skating is a thrilling activity that imposes a hazard, we need sufficient foot support. And such is possible if we wear well-padded sneakers. The best supportive paddings are on the collars, giving the ankles a secure fit.
Besides the ankles, we need support on the foot's arch or the part that steps against the ground. The good thing about Nike is it has these features in the insoles. Most of its skateboarding sneakers have these parts well-cushioned, enough to deal with jumps, flip tricks, and other skating stunts.
3. Outsoles
While most of the products we reviewed came with rubber outsoles, let's emphasize why such material often goes well for skateboarding.
The rubber used for an outsole leads to a grippy skating shoe. While skateboards already have grip tapes, what can go better than a sneaker and skateboard held firmly?
Stability is the first benefit of an outsole that yields sufficient traction. There is a reduced chance of the skater slipping off the board. And second is riders control the board better with a more connected skateboard and sneaker.
4. Sole types
Like rubber outsoles, vulcanized skateboarding shoes are often in the brand's line. And it's all because such a sole type yields an excellent board feel. This way, skaters obtain added control of the board.
Save vulcanized. There is another type in the cupsole. This variant has multiple cushioning and rubber layers to protect the feet from injuries. Yes, the cupsole has better durability and support than vulcanized soles. However, there's a lesser board feel to this style.
5. Shoe cut
We have come across skateboarding shoes of varied heights. And how tall these shoes stand tells us more about their level of support and support. Let's list them here.
High-top sneakers have collars that reach until the ankles or above them. While it is not too likely for objects to hit your ankle when skateboarding, having this sneaker type increases impact protection should it happen.
However, the significant downsides of these shoes are the reduced breathability and mobility of the ankles.
This sneaker type goes between being protective and liberating to the ankles. These shoes have better breathability and mobility compared to the previous style. But it's more restrictive compared to low-tops.
Ultimately, the low-tops are the best shoes for freedom of movement. They also yield the best breathability. Unfortunately, low-height sneakers mean more exposure to the ankles. Hence, these parts are slightly more vulnerable to impact and injuries.
Other Important Factors to Consider
The following factors might often end up neglected. But considering these might help you decide better.
Treading – Herringbone is one of the most popular Nike shoes tread styles for skating. Other tread patterns could be waffle layout or a combination of both. But regardless of the style, this shoe feature ensures grip and traction when going for skate park or street skating.
Laces – These lengthy ropes fasten the shoes against our feet. Hence, we should keep them solid by buffing them with shoe goo. Another issue riders often encounter is the laces' length. While this sneaker part is always available at any shoe shop, a perfectly long lace saves us time and effort.
What Are Nike Skate Shoes? How Do They Work?
Take off the brand logos and trademarks. For loyal Nike users, it's easy to spot Nike skateboarding shoes on the shelves. One of the most evident features is that they are often thin shoes.
But while such a design makes the feet more vulnerable to impact, it yields the best board feel that several skaters love on top of a reasonably cheap and affordable price. Besides that, with their rubber outsoles, Nike exhibits exceptional tractions. And that later brings more stability when skateboarding.
What Are the Different Types of Nike Skateboarding Shoes?
Nike doesn't only play around with thin soles. It also offers more variety based on several physical and non-physical aspects. Here are other models that top individual areas.
Nike SB Janoski – Zoom technology sneakers that yield the best board feel but require a bit of extra cost
Nike SB Dunk – SB Dunks are buffed, padded, and protective sneakers painted with a classic finish.
Nike SB Alleyoop – Nike Dunk successors characterized by padding layers on the toes and tongues for a snug fit
Nike SB Blazers – Suede shoes that are durable, flexible, and grippy
Nike SB Nyjah Free 1 & 2 – Nyjah-era slip-on and Air Zoom-inspired skating sneakers
Nike SB Shane – Shane O'Neill-designed shoes after using the cool Nike Janoski for years
Nike SB Charge – Ideal entry-level skateboarding shoes for people on a budget
Why Do You Need Nike Skate Shoes?
Not to merely put the brand's name above all, but here's what to expect when going for a pair of Nike skateboard shoes.
Most Nike shoes generate an excellent board feel.
Nike shoes are stylish.
They are politely durable sneakers for using suede for most models.
Nike skate sneakers, especially Air Force Ones, are famous among riders for their reasonable prices.
Frequently Asked Questions
What is the price range for Nike skate shoes?
We mentioned how Nike tops the public's first shoe choices because of its price. So, how much do these pairs often cost?
The average retail price of a pair of Nike SB sneakers goes about $85. But the numbers could be as low as $65 to as much as $110.
What are Nike skate shoes made of?
Let's divide the skate shoe into two, the upper and the soles.
The reviewed products would tell us that the nicest Nike shoes often use rubber as outsoles. But besides that, the brand also uses polyurethane. Not too far above it are cushioning layers often visible on the insoles.
On the other hand, the uppers usually have suede, leather, and other synthetic materials. And often, the brand adds a rubber toe cap for better wear resistance when skateboarding.
Where can I purchase Nike skate shoes?
Nike has spent enough time and resources to become famous and reliable. Hence, its skateboarding shoes are now in almost any department store, sneaker outlet, or online shopping platform.
Do Nike SBs run small?
Many customers will negate a claim about Nike SBs being small. But that's unless they bought the wrong size.
However, seeing several discussions about the brand's line of skateboarding shoes, especially the famous Nike SB Dunk Low Pro, at least most of them affirm that Nike skateboarding shoes are true to their sizes.
How often should I replace my skate shoes?
When to change your skateboarding shoes could depend on non-time-related factors. But here are signs that will tell you you should change them.
Worn stitching
No more grip and traction
Flapping soles
Impacts intensify
More foot abrasions
Cracks and holes on the soles
What is the difference between Nike SB and regular Nike shoes?
We know several SBs and regular sneakers makeup Nike's product line. But let's focus more on the Dunk variants for this discussion. Here are the salient differences between SB Dunks and regular Dunks.
SB Dunks come with more padding.
Regular Dunks often use leather as the upper material.
Nike applies Zoom Air on SB Dunk insoles.
Non-SB Dunks usually have more space for the feet inside.
Conclusion
Nike has been a staple of skaters and non-skaters for years already. Such is because of its way of coping with every user's needs and goals for every activity. Undoubtedly, skaters are more often grateful than not because the brand delivers quality skateboarding sneakers.
The best Nike skate shoes above are only a few top-grade products of the brand that promise quality performance, comfort, and durability. Hence, keep learning more aspects that make the best skate shoes. Only by then can you decide what's for you.
The top-rated shoes from other brands: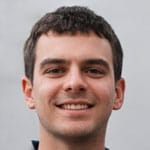 Hi, I am Charles Harris. I opened this site to write as much as I can about my biggest passion – skateboarding!
I started as a clumsy yet passionate rookie 10 years ago to now a still passionate yet much better skateboarder! But I have to tell you, the whole journey has always been fun and rewarding, indeed not without hardship.